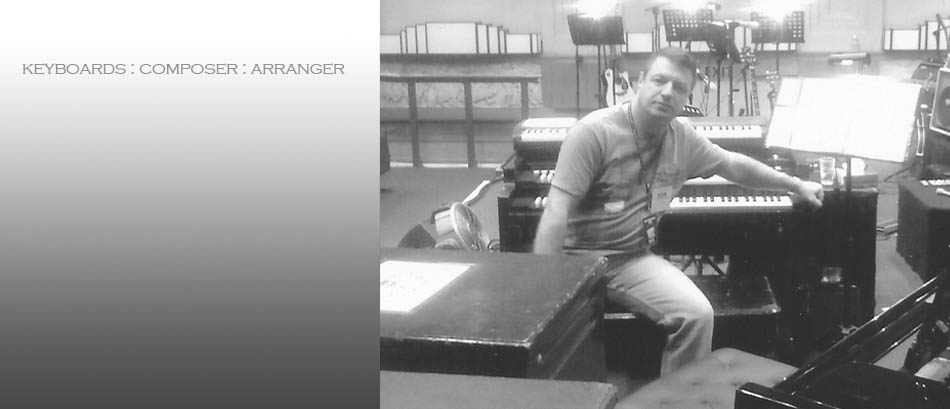 Paul studied piano from the age of 10 years old with Mrs. Liddle LRAM & Royal Operatic Society principal organist in Jarrow, Tyne & Wear. Mrs. Liddle was a massive influence on Paul, giving him a thorough grounding in classical music, both through his private piano studies, and through the Society of Young Musicians, which was run by Mrs.Liddle and her husband, Lance. Grade 8 piano and Grade 8 theory were attained with distinction before Paul went on to study a Licentiate Trinity College Diploma with Adrian Officer at South Shields Technical College. However, through the influence and encouragement of Paul's father, a professional musician himself, jazz was never far away from Paul's practice time, and once all serious classical practice was done, Paul would start looking at jazz riffs, runs, and pieces, some learnt by ear, and some through bought transcriptions.
After spending a lot of his early professional life on organ and keyboards, when Paul moved to London, nearly all of his recording sessions and live performances in the 90's and onwards were for his piano playing prowess both in commercial music and jazz.
On moving to London in 1989, Paul played piano and keyboards at the Empire in Leicester Square, London, before being snapped up by top society band leader Johnny Howard. Now Paul was performimng at top class venues most evenings, while fulfilling recording sessions during the day, ranging from commercials and short film to pop records. Working constantly in-house with the Monty Python team, Paul played on such diverse sessions as the 'Best of Monty Python' album, first TV season of 'One Foot In The Grave', piano on the Bonski Beat hit 'Small Town Boy', piano on Toyah Wilcox album 'Dreamchild', piano on the Tony Hadley album 'Passing Strangers'. Piano on live television with Tony Hadley- 'This Morning', 'Children in Need', Paul O'Grady show. Piano with Van Morrison BBC4 live at St. Lukes Hall, London, to name but a fraction of recording sessions fulfilled both on TV and in the studio.
Paul is best known these days for his roles as Musical Director and pianist.
Paul famously MD'd his own orchestra, as well as playing piano on the Paul O'Grady Christmas Special, which was broadcast ITV1 9.00pm Christmas Eve, 2011- footage can be seen on the TV clips page. The show featured such stars as Bette Midler, Cilla Black, The Soldiers, David Haye etc., Paul providing the music for the whole show.
Today, Paul is MD to Van Morrison, playiing Piano, Hammond organ and Trumpet both live in concert and in the studio.????
---
---
---