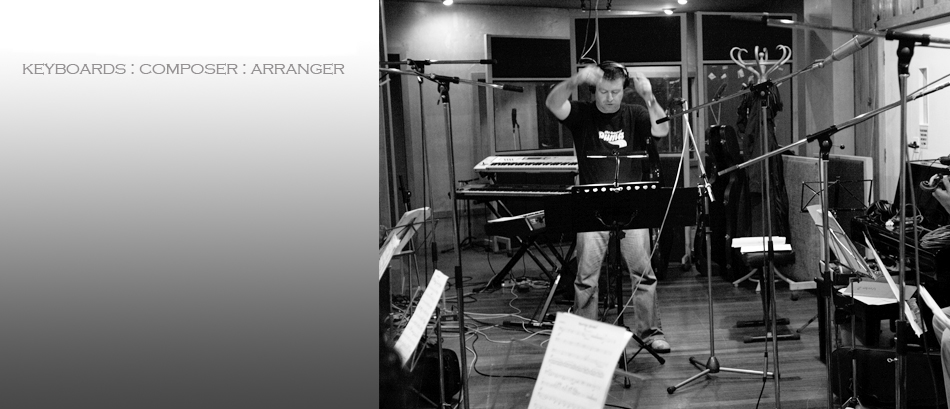 Paul started his compositional career creating 'House' dance music with a jazz influence back in the late '80s.
He collaborated with Mick Charlton, drum programmer, and a renowned experienced composer in Vic Malcolm, main writer for the famous rock band 'Geordie' back in the 70's, whose lead singer, Brian Johnson is now the lead singer with AC/DC and has been for many years. Paul, Vic, and Mick immediately geld and this prompted Vic to organise a London trip to see a renowned record and film producer, Andre Jaquemin, to see what he thought of the tracks. This led to a journey across London in a black cab to Warner/Chappell, then in Regent Street. Paul, Vic and Mick were immediately signed up for a full album of pop/dance library recordings.
Two years passed and Paul moved to London permanently. He now found himself in demand for sessions, including writing sessions for film, adverts, tv series and commercial records. Andre Jaquemin, who produced the first album of 'House Dance' at his plush 'Prominent Studios' in Camden Town, had become a close friend and called on Paul regularly for writing and recording sessions. This led to a collaboration on all of the music for the first series of 'One Foot In The Grave', Sky Sports commercials, a 'Woolwich' ad with Eric Idle etc etc. Andre Jaquemin produced the soundtracks for all of the Monty Python feature films- 'Life of Brian', 'The Meaning Of Life', A Fish Called Wanda' etc, and consequently Paul often found himself working with all of the Pythons at various times. In fact, Paul played piano and trumpet on the 'Best of Monty Python' album. Paul by now was composing library music on his own regularly for Carlin Music.
Paul went on to do commercial work for Saatchi & Saatchi, collaborating with the genius producer and recording engineer Martin Rex, sadly no longer with us. They even did soundtracks for Sony Playstation.
Paul's music is constantly used on Canadian, Polish and Japanese films, his tracks picked from his substantial output for Carlin, now Warner Chappell. His tracks have been heard on 'The Oprah Winfrey Show', Jay Lenno Show, Emmerdale Farm and Coronation Street.
Paul then pursued commercial writing for his successful 'Funk' album 'Smokin B3', writing half of the content and arranging all tracks. Then on the Tony Hadley album 'Passing Strangers', a stunning big band album featuring the best musicians in the country, Hadley and Moran collaborated to write the stunning ballad 'Leaves Of Love'.
Paul continues to work for Warner Chappell library and So Ho Music, producing and composing library tracks, as well as writing music scores for Van Morrison, both for live performance and in the studio.?
---
---
---